Sanitary hazard generated by noise increased within the last years dramatically. We belief that alongside to avoidance of noise the experience of stimulating, rich and free of motorize noise acoustic atmospheres benefits the constitution and regeneration of the sense of hearing. Regrettably more and more urban citizen lock up their aural sense to detailed listening. This is a comprehensible subconscious reaction to an enduring and excessive noise polluted environment. Active listening means annoyance.
The acoustic-refuge-project targets on setting up acoustic shelters at heavily noise polluted locations in europe. Those shelters are open for all inhabitants of those areas and invites them to take a downtime to listen. Our first prototype of a acoustic shelter room is ready to equip.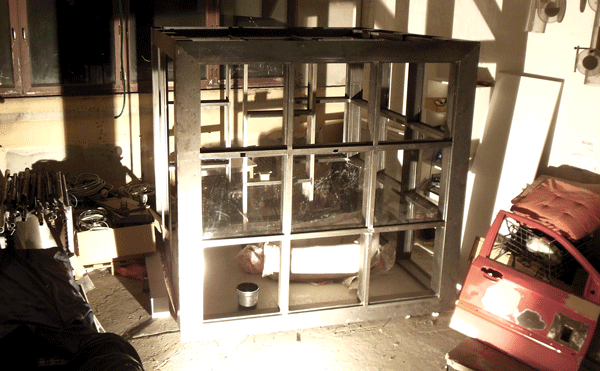 In a first period we will assort ten of the acoustic distinguished and ten of the mostly acoustic polluted locations in Europe. In the following production period we will create a interactive multimedia installation processing rich social activities caught up at those acoustic distinguished places all over europe. The acoustic reality of those places can be experienced within the acoustic-refuge right there at those highly polluted urban spots. So the project provides detailed and free of motorized acoustic annoyance to hardly noise-burdened inhabitants.
The intention of this project is to confront the situation of more and more people giving up their ability of detailed listening and to rise the common esteem of a noise-free environment. People who refuse detailed listening because of lasting sensual frustration will also disregard harmful acoustic situations. This speeds up the downward spiral. Our aim is to break the negative circuit and initiate aware listening. A rising crowd of aware listening people are the basement for any positive development of the acoustic situation within the metropolises of europe.